subscribe to
LemMeOuts
funny picture
of the day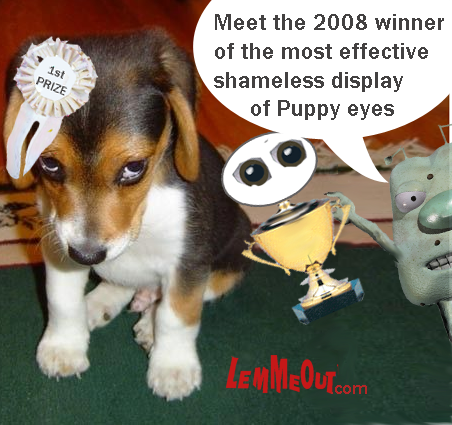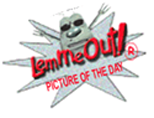 Good day my fine friends today' s picture is of the unashamed winner of O.O.O.O yes `Optimum

Optical

Organry Outcome 2008` for which I in my luminary capacity was asked to host the competition to see which rapscallion canine, feline,

or other furred, feathered ine` if such exist,

in possession of over sized opticals can

after wreaking the required and recomended amount of havoc,

best escape retribution by means of a clearly sham `oooo! I'm sooo sorry type stare out`. Well this young pup won due to his masterly combination of not only shamefully deceitful display of the opticals but by effecting a true hang dog stance of the perfect angle for which to achieve the intended result.

The aim of the event is such that each pet partakes in a minor kafuffle of chastise-worthy issue and then does display his tools of regret to see which of all the performing pet perps does best communicate contrition through the medium of optical organ trickery.

Well the range of deliberate but none the less dastardly deeds committed by all accountable animals were far too numerous and some of not best publicly discussed nature to relate but regarding the ultimate champion contender here well he ran hither and thither creating combo of chaos on a never before seen scale and the arena was awash with murmurings of "why that young scamp is in serious want of a series of sessions at a school of correction for positively unruly pets" other murmurings overheard were of conspiracy kind and did accuse the scoundrel of not only being in possession of as we see here award winning, `puppy eyes` but of quite conniving opticals that were clearly riddled with blatant roguish intent, and that every act was therefore of deliberate and truly waggish (pardon the pun) beyond competitive boundary practise.

So champ here embarked on a show stopping spectacle, literally when said pet chewed through the cable for the competition amplifiers which he only survived due to the industrial rubberised, and not very well coordinated I did note, floor covering, but prior to this he did shred,

to perfection it must be stated,

no less than 72 copies of ready to for sale `Perfect Pet Monthly` magazines which at 3,

never to be recouped,

dollars apiece, caused, I can trtell you an almighty furore over this act of sabotage. Young frisky fiend did then decide to bark and growl withsuch a convincing degree of intimadition directed towards a trio of terrified voluntary aides assisting at the refreshment counter that not only did the convincing canine see them off, but did also see off,

in no particular order

, around a third of the abandoned refreshments, of which such banquet did consist of a motley assortment of raw burger offal, numerous, not merely meaty sandwiches, crispy crackers, plumped to perfection donuts and and abundance of now all over the place popcorn among other treats some comsumed complete with packaging and it was only because the owner managed to steer the insatiable beast away from the treats de cacoadue their potential toxifying effect on dogs that these `food of the Gods1 were not devoured only merely suffering mishapen detriment but yours, quick witted, truly offered to dispose of them in a cautious manner to ensure no further threat of doggy devourance and I highlighted due to no doubt a covering of canine contamination, something which after a quick shimmy with a damp cloth enabled me to thriftily polished the lot off later.

The,

performing far above and beyond its necessary competitive duty

, doggy then duly hoicked up a rear limb and relieved its self over,

it was murmured throughout a deliberately targeted

, pair of white coloured and obviously inhabited slacks.

Then in a manner in which it seemed there would be no forseeable end to the devastation by dog and no doubt as a result of its gluttonous fest it performed simultaneous bi-ended bodily innard blunders of scarcely believable proportion then after this deliverance did instantly devour a substantial amount back whether through a means of destroying the evidence or intent to effect a synchronised gag from the auditorium its still not clear but then apparantly stirred into a frenzy by the astonished on-looking gags, cries, and hollering it ran amok the assembly barking and endeavouring to lap the distorted with disgust faces resulting in the majority of the inner sanctum of the auditorium finding perch upon chairs, tables each other and any other object

providing safe harbour. Well by this point of such disarray it would have been reasonable to presume the contestable situation was beyond repair but then said pup did stop and the cheeky blighter did hang its head and blatantly perform its optical trickery, why! there wasn't an unforgiving or un-moistened eye in the stadium and the 2008 outright winner was announced, though I do believe decisions may have been swayed by bias in order to be shot of the pet without any further delay or destruction which almost happened but the aforementioned cable incident appeared to be the finale.