subscribe to
LemMeOuts
funny picture
of the day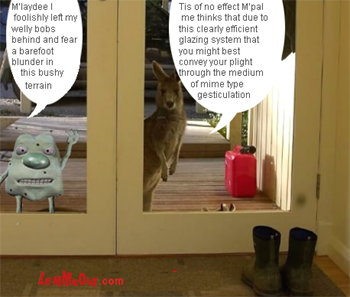 Good Day my fine friends, ah! here you see the unfortuitous result of caffeine buzz, yes I and Skippy the bush bouncer had visited a fine friend, partaken in a cracking old chin wag and gluttonously imbibed no less than four cups of the old café-au-not-too-much-lait which had whizzed up my senses into a whirly gig of nervous disarray so cosequentially on our departure why I plain old forgot me wellybobs in my highly excitable effervescent state. They were what's known in the business as a `celebrity gratuity` which miffs me a tad, being a luminary not mere celeb and admittedly they're a tad too big which if truth be told me thinks the bounders bestowing them were not a jot bothered as long as any old luminary bandied their brand, but, well, free rubbery booties, tis a blessing as it lets my fit to bursting coffers swell and swell and swell. why its just so ….. swell as well.
Well my back was barely turned before the fine friend had fort-knoxed her abode and re-entry was pas-possible, why! to a cynic it would appear the blighter must have been glad to see to the back of my good old self, as if!.
I banged on the barrier to entry and pushed,

and punished,

my lungs to their best ability shouting "why! I can M'Laydee, just like the best of them, endeavour to fend for myself in your admittedly,

pretty little,

but feral wilderness and you may say its an irrational fear if you care to, but to be gadding amok its bushed terrains will bring many a blight upon my barren perambulatory equipment, why I have watched innumerable episodes of Walton offspring running ragged amok their mountainous roots in nought but the boots they were born in and still wince to this day if I see an empty pair of shoes. Why I might snag myself, incur welts and weals and fall prey to a savage attack from a ravenous dingo, nay a horde of the dastardly types as they gad about in packs and well quite frankly I might end up belly-up as the rotted fodder remains for foraging grubs and other scavenging villains or worse be found by itinerant circus folks and displayed as a freaky exhibit"
Well twas as if she had been beamed up by Scotty, to trek extra terrestrial territories for eternity as she was nowhere to be found.

Now I know I'm a person of substance and could have brought about the acquisition of a pair just like that (for optimum effect please envisage cocky snap of two of my three fingery digits)
in order that I remain well shod but twas the thought of the waste that was certain to wreak unruly havoc on my conscience, but then my ponder was broken with enlightenment, now wait a mo, I think me smells a rat, is my seemingly illusive
`supposed` friend of similar foot fitting to my good self, why! I realised I may have fallen foul of a dishonest appropriation of my property with the intention to permanently deprive me of my rubber ` gratuitous booty` booties. Well the Ladydee was a cad and to this date non can convince me otherwise.