subscribe to
LemMeOuts
funny picture
of the day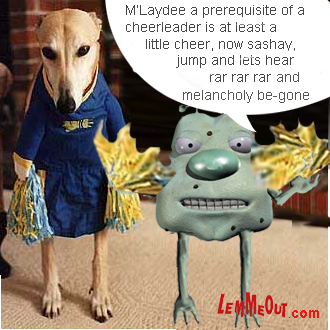 Good-Day my fine friends today's picture is a multi-party mutually beneficial exercise, I had received a communication of telephonic type requiring my services to provide emergency remedial aid for a critical case of the blues as I am globally renowned for my humble efforts to entertain in order to spread a blanket of glee where said glee has often forgotten to tread or quite frankly thrown its hands up in despair and legged it. I therefore embarked on a

random act of kindness

beneficial to not only Miss melancholy here but as it transpired twas a potential cash cow combo benefiting my good-self and, sadly blighted awww!, mere

celebs

.



I arrived at the rendezvous and forcibly wended my way through the oppressive air of

up to the neck, nay! over the head negative energy to find the sight you witness here, a rather fraudulent misrepresentation of, a leader of cheery type.

Well I was instantly thrown into a perplexed state as I knew to be frank ones workload would be more than cut out but I was excited at the prospect of making a princely sum out of one of my past ventures, accessory pets

for past it

Celebs, Why! I could lease out this dainty dog as not merely,

but highly entertaining,

celeb arm candy of unique type to both guarantee said celeb coveted inches of column type and the means to muster up and hopefully maintain a mood of merryish state by providing cheery companionship as truth truth be told most of these ailing entertainment types tend to look not-too-mildly miffed, yes tis in the eyes see, often there's no one home.

Well I jumped, I pranced, I sashayed I performed back flips, front flips, flips I never knew existed and gymnastic manoeuvres of world class worthiness surely. I hollered, shouted, sang I pushed my lungs above and beyond reasonably expected capabilities but our established Miss melancholia was having none of it and disgruntedly declared, my endeavours were nought but comical effect and stated that one would never, despite ones dainty form be the frippery hand baggage for any down the pan type celeb who as all would agree,

admittedly,

would barely have the strength to port the pet with fragile emaciated arms therefore courting a celebrity canine-carry-catastrophe as a consequence and as for performing for the purpose of raising said past-its spirits twaws a joke as why if one couldn`t couldn't whip up the vigour to bring about a personally pleasing visage then one wasn`t forseeing much luck with losing types.

Well suffice to say I had the pip, I had been bestowing a gratitude-worthy but apparently fruitless-gratuity and was in danger of losing a fiscal booty and demanded to know that very instant, the why and wherefore of this sour countenance, and well, you could knock my flabbergasted form down with a feather as it transpired my friend, and I blush at my faux pas, that she was indeed a he and was most perturbed at the far too appropriate length of skirted garb and would much prefer a piece of risqué range due to hankering to walk on the wild side, oh and vivid hue of pink wouldn`t go amiss, well I whipped out tools of cutting type brought about an almost desired state, well pink was not an on-the-spot option and would you believe we rar rar rarred the night away.