subscribe to
LemMeOuts
funny picture
of the day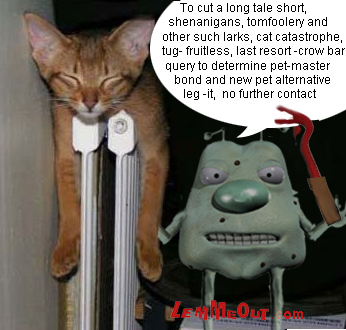 Good day my fine friends today's picture was from a time when my,

no longer,

cat chum here and I decided to capture a connived tale of comedic effect on motion picture for the purpose of procuring a sizable bounty from an entertainment channel specialising in,

admittedly a possible spattering of genuine,

effects of disastrous death,

only just

, defying incidents therefore often highly inappropriate and not for the faint hearted but offering much entertainment all to the expense of a motley assortment of poor saps,

all victims of grim incidents,

expense, why!, laugh, the last time I watched I had to crawl in a lowly fashion about the room in order to acquire oxygen and the friend I was perusing this spectacle with had to dash out of the room and loosen a belted garment.
Well said incident embarked upon by our chummy combo involved a vehicle of motion type, a public pond and almost but thankfully not a broken transmitter of electrical energy but I am unable to further relate certain part of the shenanigans for legal reasons but I have pedantically checked the print of font size zero and there is no implication as to my
keeping mum about the aftermath.
Therefore to relate my legally allowable account I benevolently and despite no previous knowledge of the art of knotting admirably untangled limbs, and selflessly paying no heed to the personal discomfort at transporting a disturbingly soggy moggy, I assisted my once chum above back to his habitat hoping to rectify the pet before his cat master Whitting Dick or whatever returned. Your's truly recollected the popular method of drying garb and other textiles by the highly effective mode of placement on apparatus of heating purpose, well Rip Van Winkle was still in a comatose state but I neatly deposited him, just! twas a tad too-tight fit and whacked up the means to emmit therms for rapid desired effect. Suffice to say and not entirely for legal reasons I shall skip the unpleasantries but cat catastrophe, physics-apparatus-heat-expansion equates to
tool of leverage assistance necessity
, biology-dehydration and total ignorance in matters of medical type burns of an apparently severe degree occurred, cat master returned, altercation of churlish and tangible type resulted to which I informed the vicious assailant that "I will counter-litigate for the shock your hapless pet has thrust upon my nervous system and the unsightly marks you have bestowed upon my otherwise impeccable physique you bounder and shall inform the appropriate authority to seize you for your own good" then legged it as fast I my newly acquired infirmities would allow.