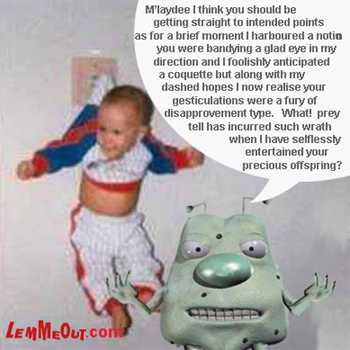 Good Day my fine friends, today's picture is of a time I paid a visitation to a,

no longer

, friend who due a brief interruption of undisclosed,

but I retro-suspect was of the dire-need-of-rest

, kind did abandon me alone for a fatiguing half day controlling her precious offspring. Now while I do lay claim to a boast of being in touch with the youth of today I do declare that the company of this this particular group of young is not for the faint hearted as they are in possession of far too much unbridled energy, constantly

griping innards

and

gag inducing

bodily functions that I am sure boffins and state ministers should be confining to mandatory quarantine for fear of a chemical hazard.
I must declare if I never again have to perform another 20 minute incessant rendition of Wheels on the Bus, form any kind of tangible relations with

plush playthings

or perform architectural miracles with briquettes of colourful and creative type that are doomed for an instant demolish I will consider myself truly blessed beyond belief. In order to stop the incessant mithering of myself by this otherwise potentially adorable tyke who was harder to curb than a basket of unruly pups I hastily improvised a harness of restraining type by suspending the enfant-not-too-terrible-just-a-tad-tiring from a hook of utility type and settled down or so I thought to a necessary-for-health-purpose slumber.
Well the illusive parent did eventually arrive home but it soon transpired was non too content. Yours truly ventured "Maam! if your wrath is a result of my tampering with your habitat apparatus and that such action has brought about an irrational fear of a misaligned piece due to a displacement through a sudden unexpected weight I assure you your concern is unfounded as it is merely an optical illusion brought about by unusual use.
Might I also boldly declare, whilst your concern for the wealth fare of your issue is both admirable and touching might I state twas your sudden and wilful neglect that brought about circumstances and if your looming vision is not intending an intimate incline then I request you refrain from such close personal proximity as it jangles my very nerves, makes a spectacle yourself and your no-longer attractive visage will be beset with potentially irreparable furrowed lines. Why I must further declare they don't make Laydees like they used to"
`
Suffice to say it was concluded I was not In the presence of any recent graduate from, even a budget, charm school and we were far beyond the point where I might attempt to curry favour, sympathy or even a guilt riddled reprieve and I was sorely offended at the following assault and battery and it is best not in detail recalled. I am appalled to say I had to resort to a threat of legal intervention if she did not unhand me as I prefer to travel by my own endeavours.
Suffice to say its over, I'm perfectly fine, well except I find I cannot venture down specific isles in DIY store or if I find myself in a barren cloakroom I'm sure only the heartless would muster up a chuckle at my spontaneous, irrespressible reaction to these cruelly mocking stimuli but this aside I feel tis best practice to let sleeping dogs lie.