subscribe to
LemMeOuts
funny picture
of the day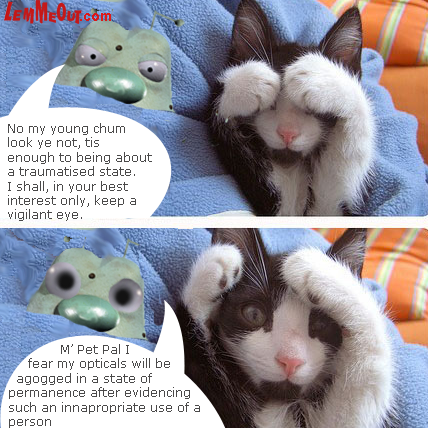 Good day my fine friends today's tale is of a far too terrifying,

and potentially bringing about traumas

, type to tell too much details. I and my pet pal were bound for a jolly fest of TV and edible treats and neck deep snugged and cosseted in homely textiles with faces nested in buckets and bags of a mish-mash of snacks to delight and distend our

gluttonous innards.
We had overheard,

due to a casual eavesdropping exercise,

that there was a particular programme on the box,

of questionable entertainment

, that fine night. The subject content of said programme consisting of some of my most favoured things including, but not limited to, the trickery art of tress taming, the producing and consequentially consuming of baked goods and a fascination with wealthy personages. So there were we the congenially cheery chums expecting a glut of, foppish hair arteestes of possibly some renown, toppest chefs and a motley assortment of collectors of glitzy bling and designer fripperies.
Well what followed was a situation whereby we were transfixed to the screen in not so much the strange fascination of addicted aficionado type but rather due to a pathological inability to muster up muscular mobility and we peeped, watched and again peeped with such intermittence that I suffered from the little known blight of blanket-burn which resulted in unsightly crustaceans that incurred a

ruination of my handsome visage

and remained for the best part of an embarrassing week.
It transpires that due to the necessary and extremely fatiguing trudge through no less than,

I am so confident I would wager my moms top teeth,

350 channels resulting in both a bordering on giving up the will to live and the bringing about of a negligent attitude consequentially resulting in an apparently careless use of an infra red appliance that we apparently altered the language of our audio preference.
However the sight of a scissor wielding wonder about to embark on an unruly thatch rendered the obstacle of a foreign tongue irrelevant. Now yours truly, though not of the calibre of a Michelin chef and whose attempts at coif management,

albeit executed with love

, are amateurish, soon realised the programme was not the TV-zeen we had anticipated and to this day I have not fully recovered due to the fact we had through the lack of a grasp of the said foreign tongue, not realised we had been subjected to a more than detrimental length of Sweeny Todd the Demon and

multitasking butcher-barber

.
Well I have been since, under the weekly instruction of my doctor who insists I must for the foreseeable future only indulge in the feasting of vegetable derived dishes and, thankfully, cacao laden foods until he deems me fit to be certified safe to socialise, without benefical sedatives, lest I become an autonomous danger to the public. Further I must only be allowed near coverings of any textile type that might inadvertently spark off any kind of recall under an initial 5 minute supervision until it is established that a period indicating dread of threat of reoccurring blanket chafe has lapsed and finally I have been advised not to bear witness to the presence of any kind of

weaponry

, hair, cooking or indeed any other keemly edged implements therefore the aforementioned vegetables should be formed into finger foods. Finally my pet pal, well suffice to say his,

I must state a partial contributor to affairs through negligent attend to a pet

, owner has barred my good self from further visitations to such an extent if I even harbour a thought of contact litigation will follow.