subscribe to
LemMeOuts
funny picture
of the day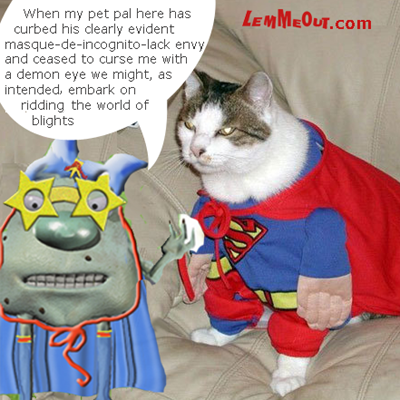 SuperSTARhero TM is a trademarked copyright story of LemMeOut
Good-day my fine friends, today I selflessly relate a tale, not of yours-as-ever-truly's but, of a reasonably close acquaintance, nay! we rub shoulders that often were akin to kin or ought to be joined in matrimony. Yes I impart to you the tale of the `mostly` heroic indiscriminate fighter of blights who gads amok the Globe known to you and I under the nom de fame of

SuperSTARhero

. Rumours are abound that divested of his masque-de-incognito and beautiful cloaked garb of the finest most flesh-cosseting fabrics of a hue that falls somewhere betwixt cobalt and azure blue and bedecked with rubied red and sunniest yellow arrangements and insignia, there is not only an extremely handsome visage but

the

most handsomest in the whole of Earthdom. He poo poos the occasional rancorous
notion that he is would you

, surely only ludicrously, believe

, second in such stakes to hmmmmmm Johnny Depp. Well I agree wholeheartedly with our sassily clad crusader as I have borne witness to the handsome bounder beneath his spangled band of anonymity and have evidenced the, covetous incurred, resentment in others and I boldly state "Johhny who?"
Well here you evidence his good-self with one of his occasional acquaintances-de-heroic-aid of whom we can see that,

through either a want of decorum, self concern or significant fiscal aid,

sports rather slovenly presented attire and an undisputed disgruntled air and bears at least one optical organ that is both riddled with malice and affixed with its own such harboured intent, on our own beloved hero.
What brought about his seething I hear your disembodied cry, well friends it transpires was from an encounter with resentment at SuperSTARheroes snugly clad hoseried limbs and when you, as you clearly have, borne witness to his own undisciplinedly garbed pair one can only dole out buckets of empathy. But SuperSTARhero gave short thrift to sour puss and said lets put our gripes aside. tis not the good public to blame for your want of a better-behaved or more arresting

get-up

so let begrudges begone and together we shall patiently wait for news of blights to fight.
So the now publicly-spriited pair chit chatted whilst in anticipation of bestowing aid till the handsomest one did bring about a realisation. "Oooooh I hope any necessity for our manly help involves not an encounter with tiny winged avians as I cannot for the life in me go within a hundred, nay! more, miles of a budgerigar or indeed any kind of parakeet not since I had the misfortune to witness that spiteful missy, Baby Jane Hudson, perpetrate an act of domestic,

and admittedly possibly nutritious,

type upon her siblings poor pet through an incurrence of envy, why said envy is the very scourge of society. No! without doubt, mini winged things are out as I get the willies near budgie type beasts as they conjure up looming visions into my minds eye of a badly applied rubied pout and it put me off wearing lippy for months I can tell you"
"You wear lippy SuperSTAR? why tis most artfully applied and results in a highly arresting natural effect, one cannot tell".
"No you buffoon, only in the privacy of my own abode, it makes me feel prettee
and, incidentally, is a little known fact so be keeping

mum
.

It should not be the preserve of laydees yet society decrees that it must remain so well though I prophesise now `when there's fiscal benefit to be reaped from mass-manufactured manly mouth makeup twill be a perfectly acceptable state, well that's another story and lets be being back to points, if there any incident involving budgerigar types I shall turn away and effect a diverted, albeit sham, attraction."
"Well that suits me to a tee as I cannot shake off this envious wrath at your extremely flamboyantly inclined garb with its arresting stockinged hose, my own unruly pair are wayward to say the least. It has, in truth, brought about a blight to my good self and almost a petulantly motivated

karate

chop about your person

(note the hands dear reader stealthily ready to effectuate such action)
"Why yes! by jove! you're right, I take back my cruel bandy of the noun buffoon and re bestow you with the noun of genius as I also have incurred a blight of horrific recall, therefore today we must divest ourselves of our public duty and aide our own goodly selves.
Come my friend let us derobe of our garbs lest we bring about spoils as we embark on a rescue remedy and nest our faces in the mountain of comforting fodder fest we are about to feast on with a plank-of-nut-riddled-choclatl chaser.