subscribe to
LemMeOuts
funny picture
of the day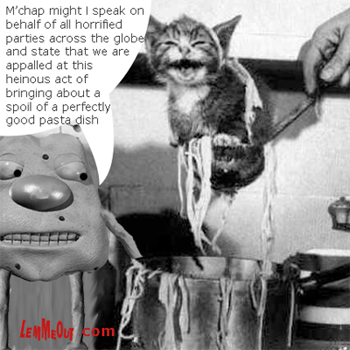 Good Day my fine friends today's picture will appal you and no doubt be the causation of an involuntary shrinking back in the form of a wince due its absolutely total lack of culinary respect for a pasta dish nay! Even if you are merely on a passing visitation from an extra terrestrial territory therefore have not heard of this continental derived delight or perhaps even,

though I would be incredulous to believe such a personage exists

, simply harbour no desires for, or absolute distaste of this this heavenly edible, I implore of you to, in the very least, appreciate the ruination of

all

perfectly fine feed from the interference of any kind,

other than complimentary

, with fodder.
Well I in my inflamed fury did ask "What on Gods good Earth, fool notion is coursing through your clearly barmy brain my cobbler of comestibles, why! this pet has hair that sheds only second to a tree in October with an early visitation from,

our chilly chum

, Winter and further if the said pet succumbs to a stress, twill bring about a faster fall of its follicle's shafts and, might I add, unlike the admittedly inadvertent perpetrator puss pet, the good public are not constructed in a manner that is familiar with the coughing up of congested balls of haired mass, carrots, yes! tis a skill mastered by a goodly number of the bounders after binges of certain types, but hair balls, no my good Sir, tis best left to pets".
Rightly concerned that my wrath may bring about a counter-wrath and not wishing to offend any who might have the powers to bar me from visiting the Terra de Italian I attempted to curry favour by emphasising my appreciation of all things Italiano. I therefore informed the,

some might venture adventurous

, chef that I was in possession of knick knackery of souvenir type that had been foisted upon me from,

I believed at the time a not too appreciative

, a friend on said questionable amigos return from a visitation to the continental capital of Italy's shores, in the form of a patriotic icon formulated in resin, for affixing to those wonderful edible preservers, frodges, frosties, whatever! which I hastily informed the chow chap I would revere more favourably from this very instance, I also informed I had once had the pleasure of an excursion in a vehicle of Fiat form, thoroughly enjoyable would do it again, and I then shouted three cheers for the Trevi fountain and hoped I had redeemed myself.
Finally I attempted to crack a gag to raise his spirit and complimented him on his countries charm as I did not wish to bring about any affixing to me of curses from the God of things not pasta derived, that might steal my pleasure of partaking in my thrice weekly nesting in bowl of this wheat treat which was my second only, to any chocolate derivative foodstuffs. favourite feast. I followed this with a mwa, mwa on both cheeks and gave grateful thanks I had no pets to behead.