subscribe to
LemMeOuts
funny picture
of the day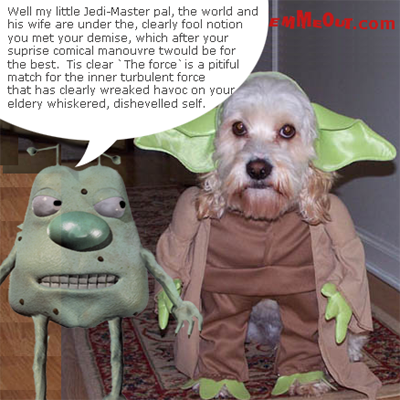 Good Tuesday to you my fine friends


Today we evidence an exciting and historic moment when two gargantuan stars,

not of galactic stellar type, nay much more luminary than such,

crossed paths. I refer to yours truly chancing upon the legendary and,

as it did before a Global audience surprisingly transpire,

not so calm and collected, rather high kicking, Yoda chap. Well a state of excitement was ebbing and brimming over my goodly self but truth be told there also bubbled a mild miff as I had been thrust,

as had the world and his fine wife

in our massed gaggle of gullible chumps on having borne witness to his cinematic demise, under the assumption that he was gone to dust, forces, whatever and after recovering from our synchronised recoil-in-horror, had shed tears and turned humble abodes into shrines, but we must now assume on the above evidence, said demise was clearly a misrepresentation of the most fraudulent kind.
Well the moderate gripe and I were ripped asunder as I endeavoured to engage old-not-so-cheery-chops in a congenial chit chat and enquired if the now apparent sham was, in all factuality, a marketing strategy to ensure a kerchingable cash cow that would have merchandise fripperies fair jumping off the old shop-shelves with as much speed and vigour as his elderly self had admirably executed.
I then enquired incessently, had he been conniving and cavorting with Elvis? why the whiskery face décor? it made him look a little lean, or, was that deliberate, brought about by a dietry fad? and was the melancholy the visage of another victim of the Global goings on? or, the fact that there had been an apparent incident with his, clearly torn, trousered garb? which I note the bold bounder had made no endeavours to hide such gusset lack. On said lack I informed him that whilst a number of free-falling celebs, endeavouring to redeem careers and be ridded of their lack-lustre, had been on a said-gusset-be-gone crusade no doubt supported by a numbers of society members who were more than in favour of following a decadent down-the-pan type in a mutual moral-decline fashion, others of the good public and myself preferred a public display of common decency.
Well my words were wasted as not a muff was murmured throughout our entire acquaintance, to which I, on scanning his feeble state, almost embarked on an entanglement of fisticuff type but decided that might just be erring on foolishness lest he still harnessed `The Force` and could bound high like a feral pet of bush type so informed him that due to my enrollment in anger management classes he was most fortuitous and to boot the breaking down of his arrogant barrier was not worthy of an expending of my superior, and I informed him still luminary, energies.