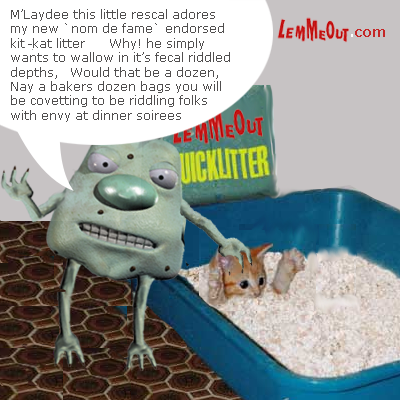 Good day my fine friends today's picture could,

to the cynical eye,

appear as if yours truly was submerging this adorable little kit-kat up to his neck in his own bodily waste produce through,

the truly ridiculous notion of

, envy of his `oooo I'm sooo cute-ness` or even more preposterously as if the little pet was being exploited as a non-too-humane visual prop for the purpose of purveying my fine product. Well I inform you 'tis poppycock is any such potential tittle tattle. Nay! the little bounder was wallowing neck deep in its gritty murky depths, testing its absorbency power and odour destroying properties, of his own rascally doing and yours truly was merely plucking the little love from a foul fecal fate and lest scandal mongering of such vicious kind affect future sales of other ventures lets be rectifying that falsity this instance.
This super product reduced the risk,

from puss poop

, of infection to sea otters, whales and other sea faring meat, errmm pets, therefore either a freefalling Celeb rapidly running out of tedious or even innovative publicity stunts, or merely the hoi polloi who were fortuitous enough to have a habitat grand enough to accommodate such could house one along side a feline friend with a conscience unbridled with guilt and 'twould provide a dinner party talking point.
Sadly the contractual obligation of yours,
the ever-eager entrepreneur
, truly to distribute this super poop-scooping product to every discerning carer of
cats
came to an abrupt,
and litigious
, end due to both a fear of further unmentionable abuse from non-too-pleased and scandalously wild pet proprietors and from the fact that from that day forth I developed a perfectly rational fear of all things fecal,
aye whether from man or
beast
, when the foul truth of derivate diseases came to light and to this day I am thrown into a state of uncontrollable agitation if I visit, pass, see or even hear of purpose built conveniences for harbouring and disposing of hordes of waste matter.