subscribe to
LemMeOuts
funny picture
of the day
Funny picture
with blog of the day - The
Tree Hugging Celebrity Apparition Happening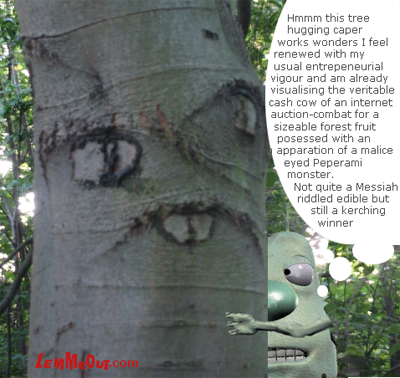 Good day my fine friends today you see a picture of a time when yours, the renowned comic buffoon, truly was feeling a little down in the dumps, wallowing in a murky pool of both self pity and a months domestic debris, I was cheesed off with society's chaps, bereft of the ability to muster up a gag, and feeling a bit Billy-no-mates in fact rumour has it I was the inspiration for a goodly number of popular tunes including `Behind a Painted Smile` and `Tears of a Clown.` Yes the notion is now ludicrous but at the moment in days of yore I felt that the world and his wife cared not a jot about my, I believed significant, self..
I had been reflecting on how, if any, all tangible moments that I was a party to were often the result of a back handed smite, a knuckle sandwich or a deep unfortuitous embedding of fang and claws from some perturbed pet and despite my best endeavours in my quest for eternal love my wooing techniques at been operating at well under par.
Being spiritually inclined and an advocate of the power of positivity I decided to partake in the popular practise of tree hugging as I was in need of a non-aggressive comforting clinch. I ambled nonchalantly through a wooded cluster and singled out a mighty fine specimen of a forest fruit for embracing with a cherishing and hopefully reciprocities caress.
Would your incredulous optical organs believe it! what were the chances of, in the midst of an overly tactile touch, the manifestation of an apparition of a non too kindly visage casting a maliced eye upon my seeking-succour self. I had for the moment harboured a hope it was the Messiah or Madonna but no doubt they were off searching for breaded edibles and other fodder to inhabit and therefore yours truly was rigid with apprehension as being familiar with the exploits of Harry the potty, the bespectacled protégé of the decrepit Dumbledore I knew that some bark-clad bounders could be vicious and vengeful and harboured no notion of incurring an entanglement with a maddened multi-limbed mass.
The visitation of a sour countenanced spirit unsteadied my disposition, no doubt said countenance was due to a riddling of envy as his laughing tackle was certainly nothing to laugh about and there was yours truly, inadvertently whilst bestowing a kindly smile upon another entity in spiritual embrace, no doubt appearing to boast about my own perfectly splendid display of dentates. It transpires twas non-the-less than that once luminary Peperami monster and his bittered state was due to having been cast-off in typical disposable manner from the public eye and due also to the resulting fiscal lack that his once glut of a kissing kit was reduced to a less sizable number of two.
In an endeavour to curry favour to all entities whether of wooded or celebrity spirit type I explained that a stick of Peperami had never been used for the purpose of easing my constantly griping innards, why! I was a consumer of mainly root vegetables and mountains of choclatl. I hastily imparted also that I have on many occasions petitioned faithfully on behalf the forestry commission and brought about the wrath of tartan clad choppers of timber who chew lengthy tree limbs for fun and I have ceaselessly crusaded for the return to the tradition of scribing on papyrus and striking nuggets of flint for flame firing purpose to preserve your people, as I have seen too much abuse of a loggers end product. Yes I have witnessed mountains of marketing waste that make my eyes water with woe.
Well all ends that ends well we bonded in brotherhood with a total disregard for our differences and to this day we mutually embrace and congenially chit chat and never does my superior dentistry bring forth a grudge.