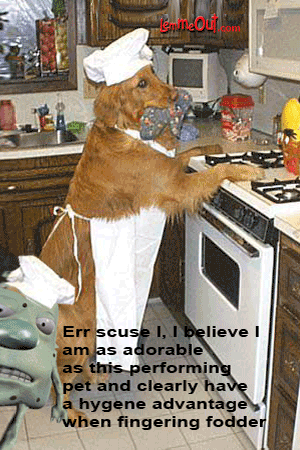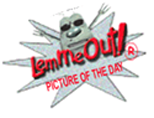 This was a indeed a farce, a domesticated canine chef presenting a reality TV,
less than
, spectacular. As you can clearly evidence I am trying set this to rights by discreetly arresting the attention of the producer on the set of this not quite cordon bleu caper. I was merely highlighting his faux pas and offering the opportunity for it to be to rectified, why! almost instantly as I the ever professional could step in to rescue the potential disaster pronto. I presented my case most professionally ensuring that facts were stated and not, as obviously previously, overlooked. I was without doubt blessed with superior talent,

I hadn't planned to

, for obvious reasons, mention my incredible handsomeness, but a momentarily lapse of modesty, put paid to that, I ensured he realised the benefit's a Star of my calibre would have on coveted viewer rating statistical charts and undoubtedly would enhance the viewer enjoyment.
It all came to pass after an enjoyable,

for the crew having been in the presence of yours truly

, days shoot. As I wandered of set with a desire to turn homeward bound ,

akin to that as waxed about in a popular sixties music tune or as traversed by Disney'd
pet
pack

, but of a sudden the wonderful waft of, burger breeze tantalised my nasal membranes and had my gastric juices gushing like a,

not as usual redundant, gargoyled

, water feature, so put paid to domestic destination desires. I quite rightly, as is evidenced, realised that there was a reality cookery exercise in process and despite my fill of
doughnuts
, muffins and motley assortment of other complimentary foodstuffs followed the trail like a ravenous bloodhound expecting to find a grubby mouthed, cheeky pukka, mildly dippy or even, comely laydeee, chef but no my flabber was gasted I was stricken dumb by the sight of a
pet
performing the said culinary skill, for the clearly budget challenged TV,

less than

, spectacular
Mildly perturbed, Nay! Disgruntled by the fact that yours truly had been passed over for said Star role, I, as previously explained, set about informing said producer of my presence, no doubt he would be filled with remorse at his lapse, but that's the price you pay for negligence on duty. If I could assert his,

surely a semblance of somewhere

, common sense I could rectify this gross faux pas. I dutifully highlighted the fact the pet could not have, in all honesty, passed legally recocognised hygiene standards as laid down in constitutional, statutory or even laws of a level exercised by the rotund, rosy cheeked Plod the practicing pursuer of perpetrators of Toy Town. Why tis common knowledge the canine would regularly have his muzzle nested in some less than pleasant bodily orifice of his own or other pets person, tis common knowledge they daily dig about in dirt, tis common knowledge they are oft riddled with bodily parasites, how could they in the name of common decency dupe the public who would no doubt be as a conseqence deluging www.performingpetproducts.com for cute canine co-ordinating chef attire to robe their very own domesticated
dogs
and cajole them into preparing less than satisfactory and surely unsafe snacks.
Well Rover, Towser, Lassie or whatever unprofessionally forgot the performance of both culinary and cute art and flew with baying almost bear-like fanged force upon my good-self. In the ensuing fracas, utensils and other kitchen and studio implements were scattered asunder, of a sudden amidst my cries of "I told you so" and "tell my family I loved them" the hackle haired hound was wrenched from my person but badly timed as unfortunately not before jaws were prised apart. You would think ensuing sympathies would be for yours,

I now feared less than physically perfect

, truly but no! it was with disbelief that the
pet
was pampered by producer and persons of all practice and promised amongst a number of undeserved bribes, a raise in booty whilst yours

horrifically maimed

was left lying prone amidst the scenic debris until gruffly asked to "gerra move on" by the set skivvy to whom I bore no grudge against as I understand fully the frustrations of unappreciated menial labourers from my pre stardom days. Suffice to, this was not a pleasant memory and best left vaulted.