subsribe to
LemMeOuts
funny picture
of the day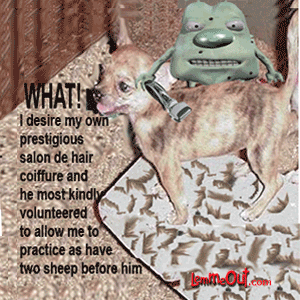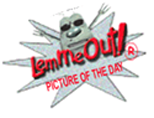 As you well know by now, that despite my entertaining Star status I am always looking for some financially lucrative venture as like all stars and the poor unfortunate lesser Celebes if I can bandy my name about to reap a bountiful benefit, then I'm in! why tis the perk of being such a luminary, turn out any old tosh and "

oh by jingo its non stop kerchingo

" .
Preening for pampered and performing

pets

! Speaks for itself! It could not fail! Why! I'll be a monkeys uncle if it isn`t highly lucrative cash cow I proclaimed! to all I could enforce to listen. Well I was highly excited and bought myself some,

I believe in hindsight falsely represented as

, scarcely used shearing implements from an online competitive consumer combat emporium and beat the other bidder numerous times, a poor sap called seller, hands down. So armed for action I went in search of unwitting and willing victims oooops! Thinking aloud there I meant to say volunteers and deduced the perfect candidates would need to be participants not overly fussed if a hash was made of the hair dressing exercise and came to the conclusion sheep why if I could coif, cut and curl these then I could surely perform wonders on my celebrity canine and other cute clients.
Well the sheep shenanigans was rather less than the expected success, but thankfully for yours truly no evidential bodies were within the viewable vicinity so ewe and ewe with their new and yes admittedly haphazard 'cuts de crew'. were hastily informed by yours, truly that if they claimed that an unfortunate bramble foraging / entangle type incident was entirely responsible then yours truly might find them a highly coveted part in his next movie, without out ,and I chuckled at my quick cunning' the slightest intent to fulfil this lame but, essential escape mode, promise.
Well my next victim, volunteer, whatever, needed to be of performing pet type, and well fortune did smile at yours, desperately seeking, truly as I suddenly chanced upon the perfect pooch. I dutifully informed him that he was an unkempt mess of tresses in dire need of tempering and bless him he hadn`t a clue and readily agreed when I handed over a choice titbit.
Well yours truly zzzzzzzzzzz zzzzzz zzzzzzzzd to my hearts content only annoyingly disturbed by the practised on pet, the soft clod, as he did intermittently yelp, due on no part to my now quite articulate skills, but do I believe due to a tad too much tugging during the aforementioned sheep shearing shenanigans which had rendered the razors to less than effective, but eventually after much trial and error and much of a to-do the pet was completely in its entirety buff! Tuft! Buff! Tuft! Buff! Tuft! well you get the gist. Now to blow my own trumpet, yes! modesty be gone ye boring bedfellow, I thought for a first endeavour practised in earnest I did achieve a mighty fine result and actually, literally by performing a comical manoeuvre, gave myself a hearty and well deserved patting on the back.
Well there was I in midst self indulgent gloat when sure as night follows day, yes it rained well and truly on my parade when the laydeeee owner of my unperturbed pet client did ensure my pride take the proverbial fall. Well I assure you that her uncalled for bloodcurdling cries and bluer than blue verbals did send the message to yours, looking for an exit, truly to skedaddle to avoid the obvious impending attack. Well amidst high octane octaves of still curdled cries and seemingly trivial chit chat about shows and prizes and two days to go, to what I haven`t any inclination and so now I beg your opinion as, I believe uncalled for references to a, and I assure I am not maggot brained massacring miscreant and yours truly just managed to impart that due to her highly offensive tone I was not going to after all forgo my usual waiver of fee for volunteers and then in real fear of wound from this wound up woman I did take flight with admirable speed.