subscribe to
LemMeOuts
funny picture
of the day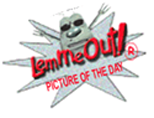 Good day my fine friends


Well today's picture is a recent snap as can be deduced from more than a cursory glance, yes the sharp witted of you will have observed the evidence herein of both current Superhero vogue and the globally widespread fiscal lack that necessitated a consequential,

quite catastrophic

, commercial reduction of the fine wares of my latest entrepreneurial venture, yes it was suffering a bit of a bashing in the coffer department.
Yours, ever in quest of such coffers, truly had embarked,

I had thought,

on a cannot fail cash-cow quest, cashing in on both the lucrative celebrity accessory pet scene and the fact the dashing caped crusader has returned, yes that Old Dark Knight

Batters

is back wiping out villainous foes with his super heroic powers, well actually his sophisticated billionaire type trickery tools, but who cares and who has not since been donning articles of hero-esque garb when in the private confines of ones own habitat. My good-self alone spent one whole day engaged in nothing but the practise of honing my physical and mental abilities to a perfected state and I've since cavorted for over a week in makeshift spandex hosiery and cloak of towelling type saving the blighted public from villainous cads, well in truth I reclined indolently about my abode in my splendid garb and pondered in visual dream of day type upon said blighted and cad types, as I had a photo-shoot in the following days and had no desire to incur even a miniscule skin abrasion or other unsightly scuff or chaff.
So for said venture I errm purchased in,

and vehemently denying contradictory rumours that imply I had visited a sale of overly stocked Halloween bunting and accessories

, delightful little articles of only official superheroic fanciful dress of pet type apparel, yes admittedly in profit-conscious textile of nylon constitution but profits before persons appears to be the mode of modern commercial transactions in the global trend of fiscally relieving the public of their already sparse pence.
Unfortunately as is often the result of such profit conscious endeavour the goods were neither of a sustainable or fit for purpose type, the,

original before restored to this evidenced splendid state,

masque designed to render surreptitious façade when on public gaddabout had badly misaligned optical openings rendering the necessary visionary state less than acceptable but yours, in all honesty, truly denies initial knowledge of substandard state therefore anydelay in rectifying status was not of indifferent intent.
This misalignment resulted in a number of near tragedies for said pet but yours,

not overly sympathetic towards pampered types unless it is a pampering of my own self,

truly took no initial heed. It transpires the poor pup embarked on a bout of rather grating on the nerves not barks but yelps resulting from two misfortunes. The first being the inadvertent and clearly to be expected painful interaction with obstacles of immovable and unnoticed, f

rom impaired vision through misaligned slits,

type a
nd,

to boot,

the blighted pet received incessant and intermittent bouts of static attack from electrical impulses of between 3000 to 100,000 volts from the apparent friction fest resulting from the frisky pups nylon clad activity, why tis enough to make a burly brute type yelp therefore such an attack upon a petit pup is expected. and quite surprisingly did not result in a fry-up of pet type fiasco.
Well as you bear witness all's well that ends well as despite,

the soon remedied

, misalignment misfortune, unfortunately the intermittent static situation was permanent whilst garbed in rather fetching kit, and for a considerable time after

de-robing

, said pet was thrilled to the point of elation as is evidenced by his beaming expression so clearly no pets were harmed,

much,

in the course of this endeavour but due to the less than anticipated ROI yours truly, wrapped up not only the rest of the articles of costume kind up but the costume and pet combo ventures before reports were made to official bodies governing activities involving consumable and pet type products, ah! well such is the often burdonsome blight of he Luminary Star.