subscribe to
LemMeOuts
funny picture
of the day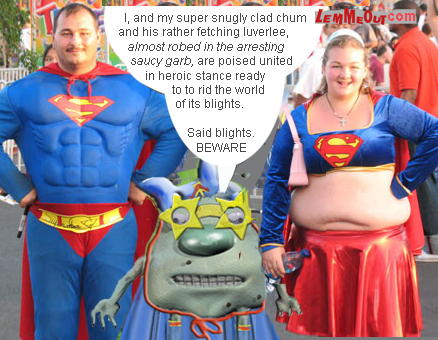 SuperSTARhero TM is a protected trademark and copyrighted story of LemMeOut

Good Day my fine friends today's picture brings to you a tale of a close friend of yours truly as evidenced here and though he sports a masque de incognito to protect his identity his handsomeness thankfully remains evident for public pleasuring. For eons he had harboured desires to don his extremely handsome self in a said,

fetching,

masque, volumous cape, to nuzzle in spandex hosiery and gad about town running amok rooftops ridding the world of villains, cads and rascally wastrels. Here he was with this duo of occasional accomplices ready to embark on self-appointed but gratefully received public responsibility of rectifying blights not of nepotistic choosing, but indiscriminate request, yes non are exempt from the succour they willingly supply, well not too often.
M'Chap here clad in wayward and far too intimately wending hosiery, his feminine devotee attired in shiny girly garb and my annonymous pal spent an exhilarating half hour both mutually admiring and mentally honing themselves in readiness for any vocational calls necessitating heroic rescue aid.
What responsibility or troublesome task would today be bringing our heroes wondered, as there were issues that might possibily affect any remdeial eercise. Well the extremely handsome gent flatly refused to be whizzing down wells to retrieve negligent donkeys or unfortuitous offspring affected by parental lack as he had,

he disclosed,

had since a recent attack of nightly-mares therefore developing a perfectly reasonable fear of darkened environments and to boot the damp could potentially bring about a mould on his beautiful blue-hued cape and therefore he could not be rectifying blights that might be bringing about such a personal spoil.
M'laydee said twas most unfortuitous if an incident involving a slide-on-masse of rubble type did occur today as she could not be excavating with her newly-rubied nails as there was an occasion that night where an unsightly hand display would cause offence or at the very least bring about an embarrassing flush and M'chap said he felt that as his unruly stockings had caused inadvertent attention he had best be getting kitted out with a better behaved pair, so count him out.
So taking into accounts such, some might say lame, excuses and the actual fact that the aforementioned admiration and honing had if truth be told left them fair-fatigued with a gluttonous want and sorely griping innards the, after not too much discourse, consensus was they, as social Idols of super means, decided to socially idle away time on super sized meals and off they jolly well went and left the negligent to be tended to another day.