subscribe to
LemMeOuts
funny picture
of the day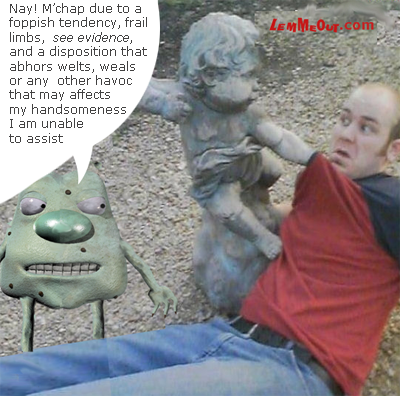 Good day to you my fine friends today you see a picture that captures an occurrence of altercation-kind that I chanced upon and wasn't equipped with a swift enough wit to enable me to skirt nonchalantly around with a preferred inconspicuousness.
The hapless chap you see about to feast on an imminent knuckle sandwich requested my assistance so without any hesitation, I informed him that I was of a delicate constitution and had had a tad too many tousle type entanglements,

as my dear readers will be able to verify,

that had at least thankfully educated me to many wisdoms, one of such as imparted by a `God of common sense` Kenny the cowboy type Rogers of,

blah blah wont mean you're weak blah blah turn the other cheek,

county coward fame. I cared not a jot of being branded said-state of weak as in fact weakened constitution and limbs was and is a major part of my proffered, tangible-entanglement-avoidance, excuses of which others included, fear of red fluid especially if of my own source, welts, faints blah, blah, blah.
I did however suggest that he be not too hasty to a judgemental mind regarding his aggressor as 'twas no doubt a vent of frustration due to events not of his own doing but more than likely a consequence and causal result of global insolvency resulting from negligent state husbandry so do try to evoke empathy.

Congenially I passed a,

admittedly through entirely selfish motive,

comment on his apparently hardy dual-combo-coloured piece of top garb as it appeared not only attractive to the eye but had apparently durability capabilities of withstanding colossal force and therefore I felt inclined to no doubt import,

and thrust thoughts of compounding domestic insolvency to the back of my mind,

such robust pieces for profits.
Well from, only the good

, and surely exasperated,

Lord, knows where, he mustered up enough muscular activity to reciprocate a vigorous defence, though yours, the fop, truly witnessed only partial subsequent events and that through a swoon-fog-state as it transpires I keeled over at the sight of the assailants head as it toppled off and hurled in my direction. When I came to 'twas amid a massed throng which included officers of law enforcement type and therefore despite the threat of gravel chip embedment and usually-feared disfigurement I did drag myself along by my fingers extreme tips for a few hundred yards from the scene-de-horrific-crime and to this day still am none the wise to the headless outcome and have unsightly pock-type scars from chip blight that are still apparent despite a lengthy lapse of time.