subscribe to
LemMeOuts
funny picture
of the day
Funny picture
with blog of the day - The Internet Entrepreneur Endevour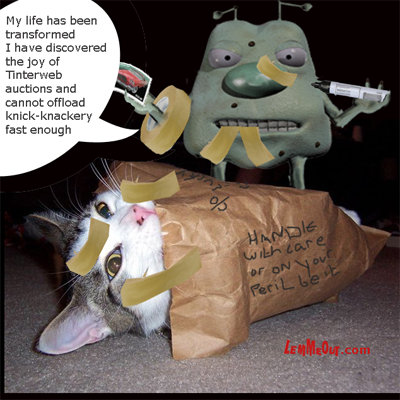 Good day my fine friends today's picture and blog are of the time I discovered the potential cash cow, errm,

thinking aloud there,

joy of Tinterweb merchantable transactions. In fact such was my obsession to the lure of vending various fripperies to persons of far away places with armchair ease that I garnered an incredulous quantity of my abundant tat and neglected knick-knackery and posted with such prolificacy I am under the harboured notion `I alone` brought about the current global economy crisis as sales at stores around the world dropped simultaneously to the surging wave of web transactions of my casting off of collected chattel pieces for profits,
I purveyed with irrepressible pleasure, an out of control, and monstrous, mountain of booty including a disposable papier-mâché plant receptacle in the form of a neon flashing ring of 12 fairy figures dressed in designer garb, each depicting a monthly calendar piece with the chilly maiden of December sporting such a fetching duffle coat I scoured the Tinterweb for 182 days until I found an exact replica and wore it with pride despite the fact that when I ventured out the world and his wife were scantily clad in a mode as befitting the, then current, summer soleil.
Parcels were packaged up and I posted wares fit for kings, Superstars even mere Celebs, Toffs, Receiving Laydee's or foppish Gents and I didn't neglect the hoi polloi as I do not discriminate,

well except for wastrels, cads and bounders

, and let that fact that LemMe loves all equally,

except for the said wastrels, blah, blah,

resound around the digital highways. The dollars were flowing so fast I almost had to fend them off as I sent out decorative bamboo knick knackery formulated into commercial vehicular excavation pieces and not too chipped glassware frippery in forms ranging from every conceivable insect to statuettes of,

often questionable,

entertainment personalities with accompanying favoured paparazzi in tow but my most favoured and almost reluctant to release piece was of a rather smashing 22 pieces of rainbow-hued motley assortment of bristled equipment for tending to and tempering the personal appearance of bearded babies.
I became the envied king of garage and boot sales in a quest for spoils to redistribute to far flung corners and coveting customers and was under such an
addiction and saw only dollars whenever I cast my opticals on any object, inanimate or not, that was within my physical capability of reasonably transporting both to the mail office and at a competitive cost.

Hence as you witness here, I. in an impulsive and regretful moment, posted off without conscience, my neighbours treasured pet whom I had had a number of painful entanglements with and who to my possessed mind was reduced only to a fiscal purpose and as such was merely a moggy waiting to be mailed to the lucky bidder expecting,

a manual no doubt.

on how to `Harness Kittenish Charm to Lure the Lurve of Your life`. So I lied! I was gripped with such obsession I cared not a jot, I had spent the most exhilarating 11 months of my life in a `bid ye bounder` frenzy that was only brought to a halt by,
no doubt the obvious cat induced complaint and an apparently record breaking succession of
unfavourable feedback from whinging clientele resulting in my auction account being thrown into question and an abrupt suspension. Twas for the best though intolerably harsh at the time.